Marketing technology vendors are a great source of industry educational materials and guides for optimizing key areas of marketing. These resources generally take the form of an ebook or webinar and serve as a lead magnet for the vendor, providing useful content to you in return for your contact details. The alternative is to purchase reports and even then, you have to provide your contact details. For the most part, it's a fair trade -- free useful content in exchange for your email address.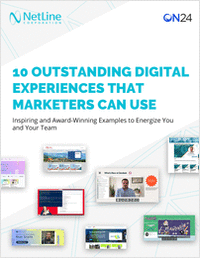 10 Outstanding Digital Experiences Marketers Can Use by ON24
Check out this lookbook to discover 10 inspiring and award-winning digital experiences that'll show you what a great digital experience looks like. Discover the latest trends from NetLine and see what it takes to go from simple webinars to complex, fully-integrated digital experiences.
In this lookbook you'll learn:
The basic building blocks of modern digital experiences

What makes a comprehensive digital experience work and why



How to combine webinars, personalized landing pages and engagement hubs into an experience
Check it out now!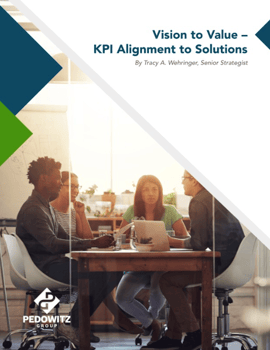 Vision to Value – KPI Alignment to Solutions by Tracy Wehringer
KPIs are measurements used to understand an organization's performance or a specific function or process. They are typically used to track progress toward specific goals or objectives, and they are often used to inform decision-making and identify areas for improvement. At the executive level, KPIs are particularly important as they provide insight into the overall health and performance of the organization.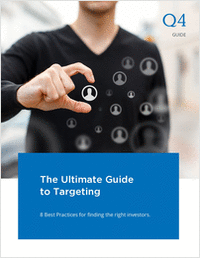 The Ultimate Guide to Targeting by Q4 Inc.
Targeting investors is not only paramount to building a successful IR program, but is the hallmark of good IR. Download this Best Practices Guide for in-depth insights on how to find the "right" institutional investors, at the right time.
Learn about the following and more in this guide:
How to combine quantitative and qualitative approaches

Leverage technology such as artificial intelligence and alternative data

Set realistic expectations and establish ways to measure your interactions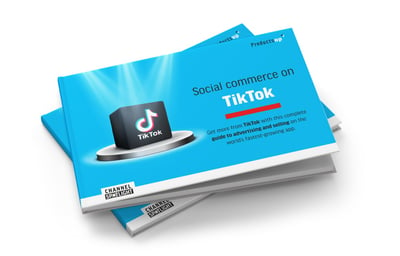 Social commerce on TikTok by Productsup

TikTok is still being downloaded in record numbers every day and the platform continues to evolve and grow its services to advertisers. To put it simply, it's the hottest social commerce platform, and because its users are overwhelmingly Millennials and Gen Z, TikTok's future is also very bright.
Productsup is an official TikTok partner and we always have the latest insights and developments to share with our customers. Read our Social commerce on TikTok guide to learn how to get the most out of your TikTok marketing campaigns.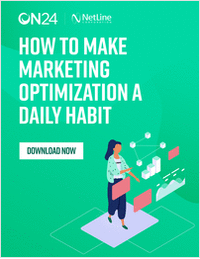 How to Make Marketing Optimization a Daily Habit by NetLine and ON24
Whether you're a Chief Marketing Officer, a Chief Revenue Officer, or anyone leading marketing efforts in your organization, you'll know that optimization leads to a host of benefits: a better buyer experience, higher conversion and closing rates and ultimately, increased customer lifetime value.

But most discussion around optimization is geared towards B2C marketers, who typically deal with single buyers and simple sales cycles. What should B2B marketers be doing – and how can leaders set the foundations to make continual optimization a lasting habit?

To help you in your journey, download, "How to Make Marketing Optimization a Daily Habit," to get the actionable steps you'll need to make optimization a part of your day-to-day, including:
Why optimization is different for B2B marketers and why it's vitally important.

Why optimization should cover the entire customer journey and not just the stages traditionally 'owned' by marketing.

What the common barriers to optimization are and how you can dismantle them.

Why benchmarking is a crucial element in setting optimization goals.

The steps you should take to build an optimization culture.
Get the tools you need to exceed customer expectations and stay ahead of the competition!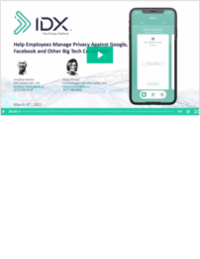 Help Employees Manage Privacy Against Google, Facebook and Other Big Tech Companies by IDX
In this 30-min monthly webinar, we will walk you through:
How big tech companies like Facebook and Google mine your data and how IDX Privacy can stop them in their tracks

Tips to improve your financial wellness program

Why utilizing VPNs both personally and professionally is essential

How to easily remove your personal information from data broker sites

Tips for establishing better online privacy habits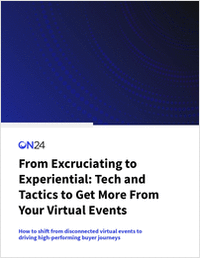 From Excruciating to Experiential: Tech and Tactics to Get More From Your Virtual Events by ON24
Download "From Excruciating to Experiential: Tech and Tactics to Get More From Your Virtual Events," an ebook designed to help you make the shift from fragmented, one-and-done virtual events to end-to-end experiences that span the entire buying journey.
Key takeaways include:
How to move beyond isolated events towards cohesive experiences

The technology and integrations you need to succeed

How to integrate sales teams into the event journey

How to take advantage of first-party data to power post-event action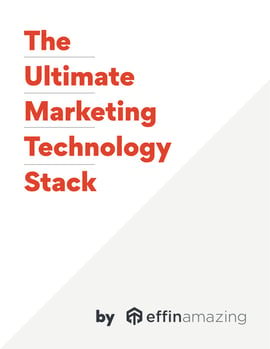 The Ultimate Marketing Technology Stack Ebook by McGaw.io
With over 8,000 marketing tools on the market today, how are you meant to decide which one is right for you?

In this ebook, I'm going to share my personal collection of tools—otherwise known as the "Ultimate Marketing Technology Stack."
What you'll learn from this ebook:
How to setup a maintenance-free MarTech stack that lasts

How to create deep personalization in your marketing communications

How to collect the clean, valid data your business needs to make fast, effective decisions

How to save money by selecting the right tools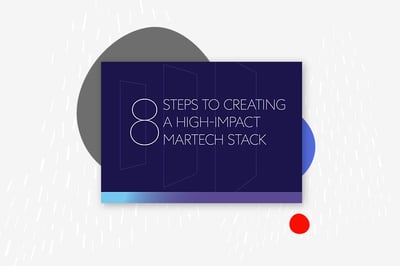 8 Steps to Creating a High-Impact MarTech Stack by Marketo
Across all industries, marketing increasingly plays a critical role in company growth. It is the marketer's responsibility to help their organization retain, nurture, and increase their customer base—not an easy task. Having the right technology and skill set is essential to provide measurable ROI and deliver on the bottom line. Everything starts with the customer, and the tech needed to assist them on their buyer journey.

By harnessing a well-considered MarTech stack, marketers can bring order to the overwhelming volumes of data they collect from online and offline interactions with prospective and existing customers. Better yet, this technology enables you to make those insights actionable, meaning you can make informed decisions.

Download this ebook for eight practical steps your organization can take to put together a high-performance MarTech stack.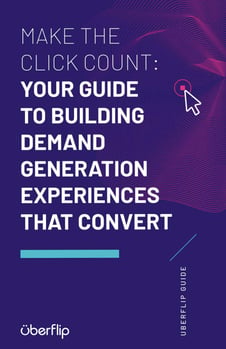 Make the Click Count: Your Guide to Building Demand Generation Experiences That Convert by Uberflip
When it comes to lead nurturing, marketers simply aren't seeing the results they used to.

Buying cycles last anywhere from three months to over a year, and buying committees are bigger than ever, with an average of seven people involved in the purchasing decision. That's a lot of people to nurture with different needs and different levels of engagement.

That's the likely reason 90 percent of marketers see their nurture programs as average down to just plain ineffective. But we're here to help!

In this guide, you'll learn:
How to create a high-impact nurture program using experience, content, and personalization.

Why taking a multi-channel approach is superior to just email

How to create an immersive nurture experience that's optimized for content consumption so prospects can self-nurture and move to a sales-ready stage faster.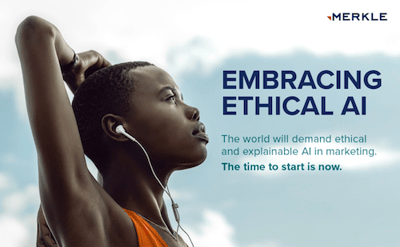 Embracing Ethical AI by Merkle
You've probably come across the term "ethical AI" in different contexts and conversations. It's an admirable concept, but what does it really mean?

There's a growing spotlight on the inequity that's inherent in how AI is applied. With 91% of businesses investing in AI moving forward, now is the right time to learn how and why your approach matters.

In this ebook, you will get a concrete understanding of ethical AI and see where it fits into your organization, from the CEO to the CEqO.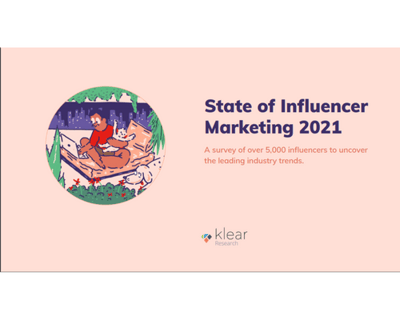 State of Influencer Marketing Report 2021
by Klear
How did 2020 impact the influencer marketing industry, and what key insights should every marketer have in mind when preparing for 2021? We surveyed over 5,000 influencers to bring you the most comprehensive State of Influencer Marketing Report. From influencer reach growth to the rise of Gen Z, uncover the most important findings and trends on the influencer marketing industry.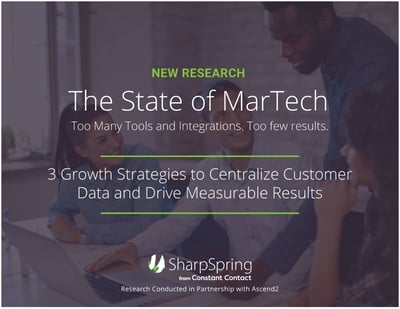 The State of MarTech – 3 Growth Strategies to Centralize Customer Data and Drive Measurable Results by SharpSpring (from Constant Contact)
Is your marketing tech stack working for you or against you? If you've asked yourself this question recently, you're not alone!

Tech overload is a major problem. For all the tools used, marketers still encounter great challenges with attribution, lead quality, lead volume, and more.

In this new eBook, we provide data on the problem, the consequences, and strategies for having too many marketing and sales tools and integrations, but too few results.